A terrible start to training… we can only go up from here!
The last two weeks have been a horribly distracting mess of adulting, and my training has gone nothing like what I had intended.
The US election was… stressful… and emotions were running really high. I even had to write a whole post defending a decision I made to unfollow another blogger which caused all sorts of chaos. We also had to do a bunch of legal stuff for quite a few things, as well as a bunch of other stresses which all seemed to land in this last week.
Unfortunately training nor rehab just didn't happen. I was so emotionally exhausted from all of it, I just needed to chill and watch TV for almost two days straight (Rick and Morty Season 4 for the win!).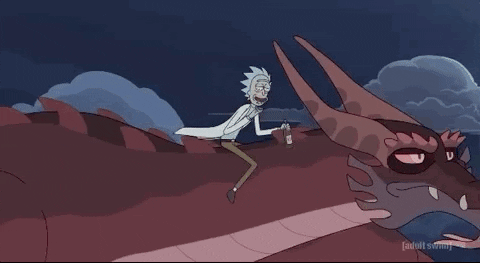 I've actually done far less exercise than I was doing before I started training for Ninja Warrior.
It's been interesting to see how my injuries have played out with this total lack of activity and this terrible start to my training.
With so much more time on the couch and computer, my back is definitely suffering… so I can't wait to get back into exercising.
My sleep has been absolutely awful, but there has been an absolute truckton of anxiety in my life, so that's not super surprising.
My strained hip flexor has definitely gotten worse with the lack of exercising and rehab. It hurts quite a bit more… so that's an interesting sign.
I didn't expect my hip flexor to get so much worse with all my inactivity. Unfortunately that's a consistent issue with overuse injuries… rest doesn't ultimately fix them, you have to build strength, flexibility and conditioning… but without reinjuring yourself. It's frustrating. I've had these injuries for years now without much respite. I've been physical therapists and done all the things without any real improvement.
The climber's elbow overuse injury seems to have disappeared… but I also haven't done anything that would bring it out. It used to be super touchy and would flare up just toweling myself off, so that's been okay, but I also haven't done any pull ups or chin ups, so the jury is still all the way out.
Unfortunately, just not a lot to report, so I'll leave this one here. Lame.
Thanks for reading regardless… next training post will be way more interesting!
Please note : The above post may contain affiliate links.
Below are some product referral links that I love and will benefit us both if you're interested.
Splinterlands – A super fun blockchain card game that I play almost every day.
Fathom Analytics – Cookie notices no longer needed since Fathom doesn't track data. You can see this site's analytics right here.
Coil – A $5 USD monthly subscription fee provides you access to a ton of content and sites in a way that fairly rewards the creators of that content.
Exxp – The WordPress App to link your blog to the Hive blockchain.
NomadTask – Earn for completing online tasks like following accounts or completing reviews.
MINT Club – Create your own Smart Media Tokens with no coding required.
GALA Games – Gala is creating a whole platform of blockchain games. Definitely excited about Mirandus, Townstar and SpiderTanks.
MCO – Use my referral link https://crypto.com/app/9h9jnlxun9 to sign up for Crypto.com and we both get $25 USD.
Aptera – Get 30% off the reserve price for this incredible electric vehicle. (My post)