Hey everyone!
We were extremely lucky to have the opportunity to travel to Alaska last week for a few days of R&R. Neither of us had been so we were absolutely rapt to get away.
Even just flying into Alaska was spectacular…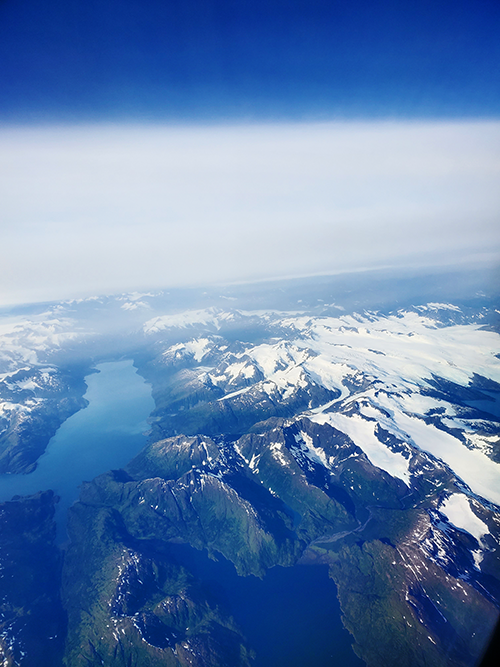 We spent the last 30 minutes of the flight doing so much neck craning to fill our eyes with all the wild ice capped mountains.
From the airport we immediately when to pick up our vehicle.
This was our first experience at #RVlyfe and while it was nerve-wracking at times (so wide to drive, pump the black water where?) it was also absolutely amazing to have a bathroom and a kitchen always available to you.
We immediately drove to Seward, which was 2 and a half hours of just spectacular views. We got glimpses of glaciers from the road! Amazing.
I totally forgot to get a photo of the length of the RV, but it was hardcore, you had to swing wide on every turn… but luckily our first trip had literally two turns… once out of the RV rental place and once into the campsite: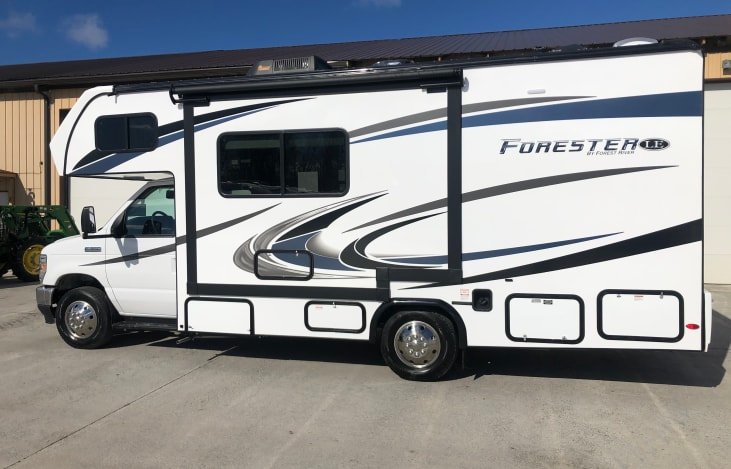 ---
We stayed at the Seward Campground on the Kenai Fjord. It was amazing, this was our view outside our RV bedside window: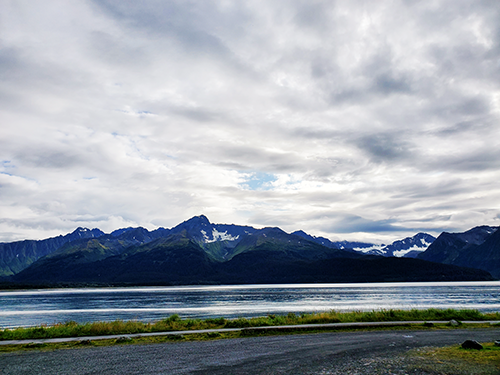 Ridiculous to wake up to…
The RV had these pop out sections… which meant the "living room" and the "bed room" extended out sideways, giving us about 2 feet of extra space in each spot. It honestly felt like a modern day miracle each time we did it. Given the pop outs and the hugeness of the RV, once we were set up we didn't want to move it – so we walked about 15 minutes to Safeway to get a bunch of groceries.
It was so good to walk after a whole day of driving, flying, driving… and then it was just amazing to cook our dinner and eat outside taking in all the views.
The next day we were supposed to go Kayaking to around the islands in the Kenai Fjord (a Fjord an area where a glacier rolled through and now there is crazy deep water) but it was too choppy, so we could only go on the tour instead.
We were definitely disappointed. We were so hoping to do something active, but the tour was really good regardless.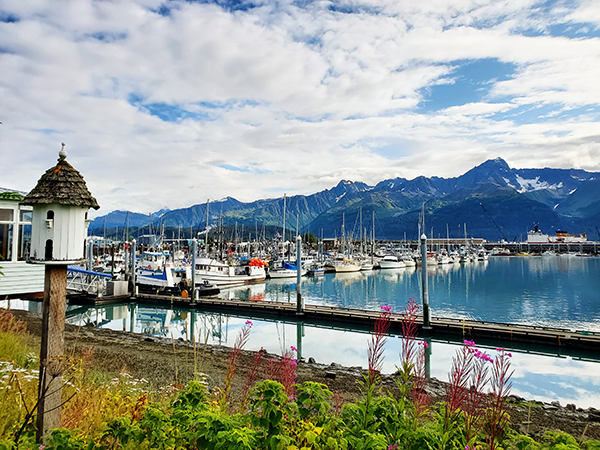 The marina that the tours left from…
We probably spent about 40 minutes playing with this whale… it would breach and spray out it's water… and then dive and disappear for 8 minutes and then it was appear somewhere else entirely and we'd all be searching for it. Super hard to get a good photo but I loved the experience…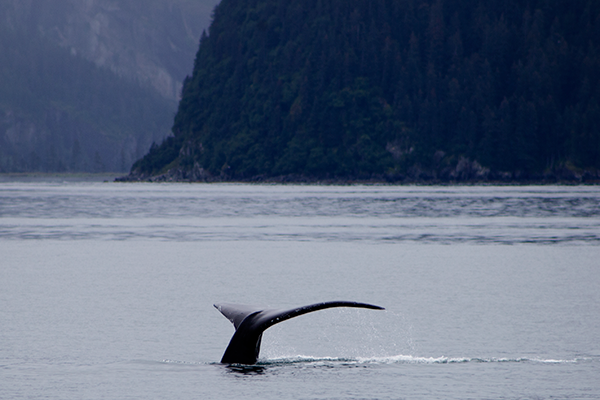 This is pretty much what we were looking at for most of the day… I love clouds hanging out with their land buddies…
Here is a bald eagle straight up ignoring us on our huge boat…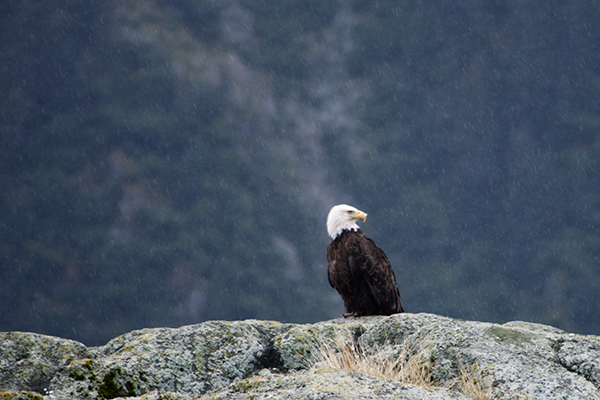 We were also totally ignored by these lazy bois… but it seemed far less intentional…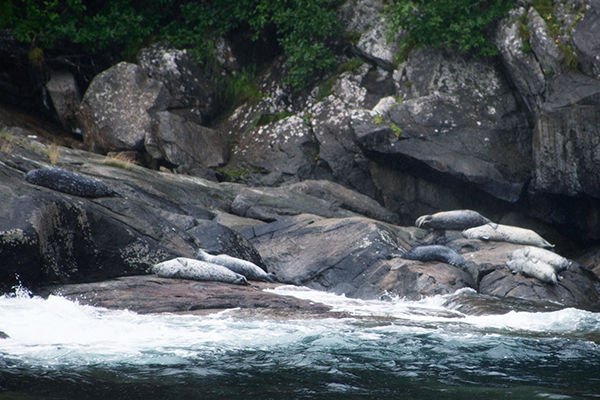 We went out to go see a glacier… and the sea really did get pretty choppy at this point… to take this photo I had to time the boat rocking to get the shot..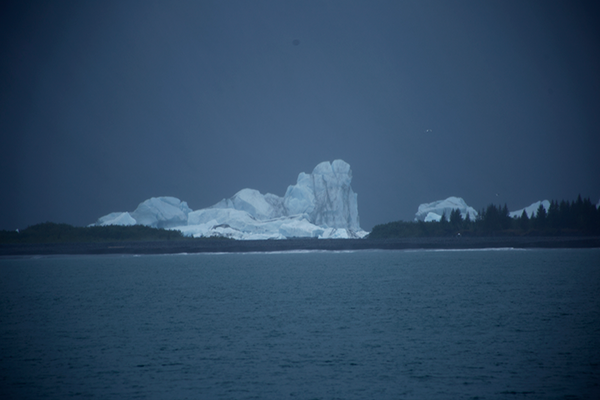 The next day… we were supposed to go on a glacier hike… but we didn't realise we had to book the shuttle way out in advance (we learnt too late that you really can't be spontaneous at all), and so we missed out.
Instead we went to the Alaska Sealife Center.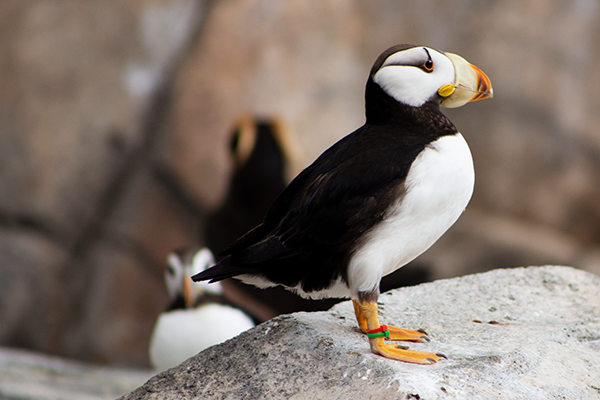 We had seen Puffins on the tour the day before… but I couldn't get a good photo of them at all, they were super far away and super quick… so it was nice to see them up close.
They're so cute… they're super awkward on land… and have to work so hard to fly… but when they dive underwater they are just magical. The Center had two stories so you could see them walking around, and then go downstairs to see those same puffins diving. I tried so hard to get a photo of them flying underwater but they were just way too quick.
We actually left that night to drive to Cooper Landing. We had to do all the RV stuffs because our next couple of nights would be at a camp ground without power or water or anything. So we had to empty all the tanks and fill up the other tanks and do all the things.
We totally had to stretch our brains, but we managed it all and were really excited to, ah, well, I guess, rough it in our luxury RV.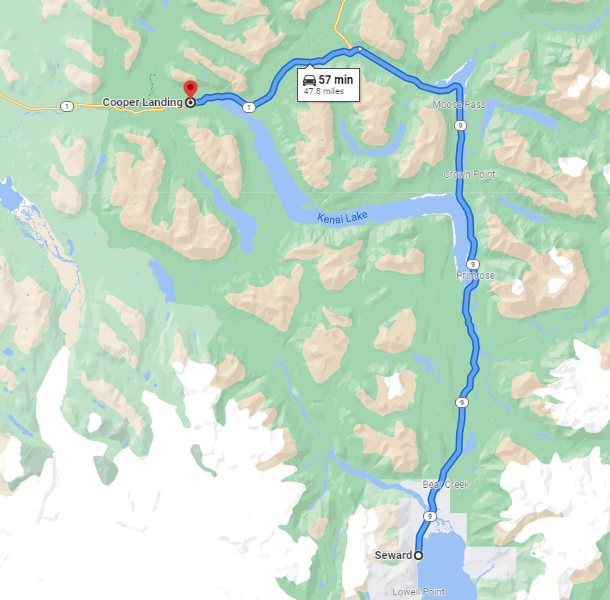 The drive was again just super spectacular… but we had a bit of a weird issue… our rafting tour the next day was a 5 minute drive from our campsite… or a 50 minute walk.
It turned out that the parents of the rafting tour company were the managers at our campsite… so they totally offered their dad to drive us there… and pick us up when we finished. It was so unbelievably lovely. Thanks John!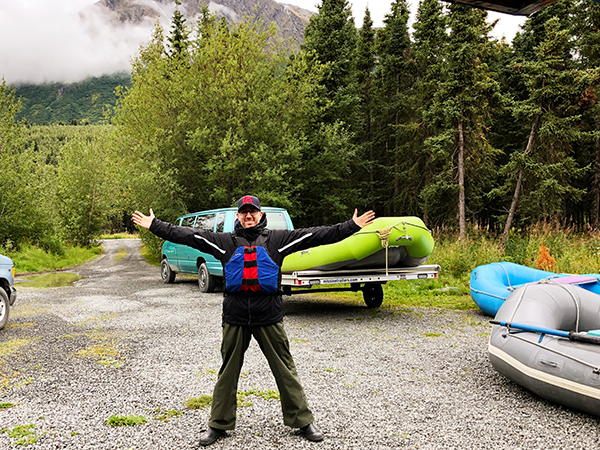 Ready for any of the things!
This tour actually happened!
BUT… we weren't paddling, our guide did all the paddling, so we just sat back for a few hours and looked at the natures and listened to the stories.
Our Kenai River Tour guide was so good. She was really funny and answered so many of our questions… we must have seen a million salmon in the river… they had come from the salt water fjord into the fresh water river to lay their eggs.
We saw a bunch of bald eagles too… my partner definitely developed her eagle eye – she was able to spot them before anyone else… keeping a watch over their domain.
There was a couple of little ripples along the river, and we got splashed a little, but nothing to be concerned about.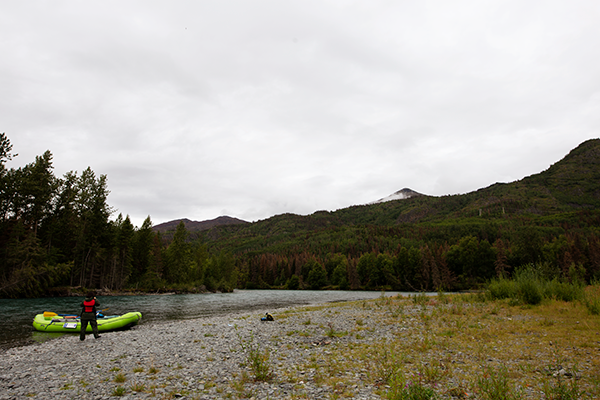 I actually didn't take many photos… my camera was in the dry bag and my phone was in my pants pocket which was trapped under my waterproof overalls and my super waterproof rain jacket and my life jacket.
The only photos I did get was of this teenage bald eagle that was watching us land our boat for the hour-long hike out.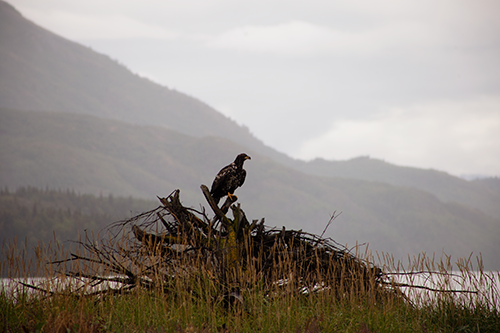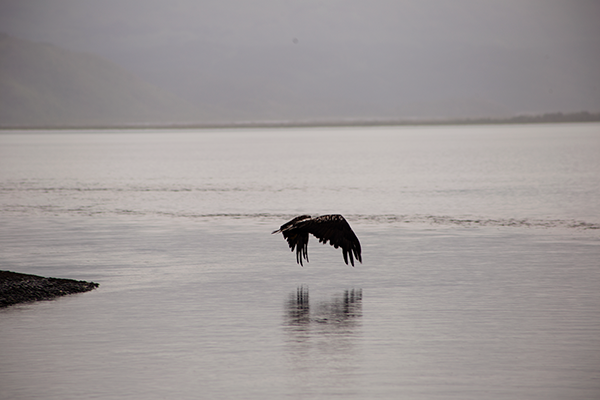 ---
The day after this tour we packed up the RV for the 2 hour drive back to Anchorage. We had to fill up the RV with petrol near the rental place, and we were stressed about it because the RV is so tall and wide and so hard to maneuver, but we found a station that was super quiet and so it was mega easy, even if we took up all the pumps on one side.
We stayed in the Captain Cook hotel in Anchorage for the night – it was nice to use a gym and be non-campy for a night. We had dinner at the Glacier Brewhouse which I'd highly recommend. We both had a fish/seafood dish which were amazing, and the beers and appetizers were all incredible. After RVing it for a bit, it was honestly the perfect way to finish our little trip.
Thanks for reading my little adventures.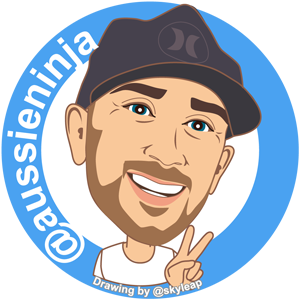 Please note : The above post may contain affiliate links.
Below are some product referral links that I love and will benefit us both if you're interested.
Splinterlands – A super fun blockchain card game that I play almost every day.
Fathom Analytics – Cookie notices no longer needed since Fathom doesn't track data. You can see this site's analytics right here.
Coil – A $5 USD monthly subscription fee provides you access to a ton of content and sites in a way that fairly rewards the creators of that content.
Exxp – The WordPress App to link your blog to the Hive blockchain.
NomadTask – Earn for completing online tasks like following accounts or completing reviews.
MINT Club – Create your own Smart Media Tokens with no coding required.
GALA Games – Gala is creating a whole platform of blockchain games. Definitely excited about Mirandus, Townstar and SpiderTanks.
MCO – Use my referral link https://crypto.com/app/9h9jnlxun9 to sign up for Crypto.com and we both get $25 USD.
Aptera – Get 30% off the reserve price for this incredible electric vehicle. (My post)