Welcome to my Chaos Legion of the Splinterlands post!
Hi everyone!
It's been quite a while since I wrote about my experience with Splinterlands… this was my previous post:
Brawlin' with Splinterlands (April 2021)
For those that don't know… Splinterlands is a competitive blockchain card game. Players collect cards and then put together a deck to defeat their opponents.
It is extremely strategic… you have to pick the best deck you can… according to that particular game's ruleset, and what you think your opponent might play… from only the cards you personally own. Purchasing cards can be anything from $0.16 for this card…
… to over $2 million USD for this card…
Fortunately though, brand new people can play for free… and if they like it then they can purchase the starter pack for $10USD which is enough to get in and start earning.
That's right… each time you win a battle… you earn tokens that you can use to buy more cards, or potions, or even exchange out for your local currency. There are absolutely people who are making their thriving wage by playing this game.
Since my last post in April this game has absolutely exploded in popularity. The marketcap for my last post was 10 million USD, and now we're sitting just below 200 million USD.
The rise has been meteoric, and this is without the release of any new card pack editions. This increase in marketcap has been purely to new people jumping in… finding they like it… and buying cards to play with. Those purchases have pushed up card prices, which is what this marketcap measures.
For this reason, my own collection has gone absolutely bonkers:
October 2019:
December 2020:
April 2021:
October 2021:
Ridiculously… this isn't something that I'm putting my own money into. I'm playing most days and spending the tokens $DEC (Dark Energy Crystals) I earn into getting new cards. I have purchased a couple of cards with my own money a couple of times in the last year… but it can't have been more than $300 worth in total. This increase in my collection value is almost entirely because of the increased demand for these cards.
As you can imagine, with the huge increase in players, and therefore demand for cards… it's been a struggle for new players to purchase cards they're really excited about and move up the league ranks. Which is why it's so exciting that Splinterlands is releasing a brand new edition of cards called Chaos Legion in the next month.
There have been 3 main editions so far… Alpha, Beta and Untamed. These editions had a maximum of 1 million NFT cards in them each. Chaos Legion will have 15 million NFT card packs (75 million NFT cards in total), which will absolutely dramatically reduce the barrier of entry for new players.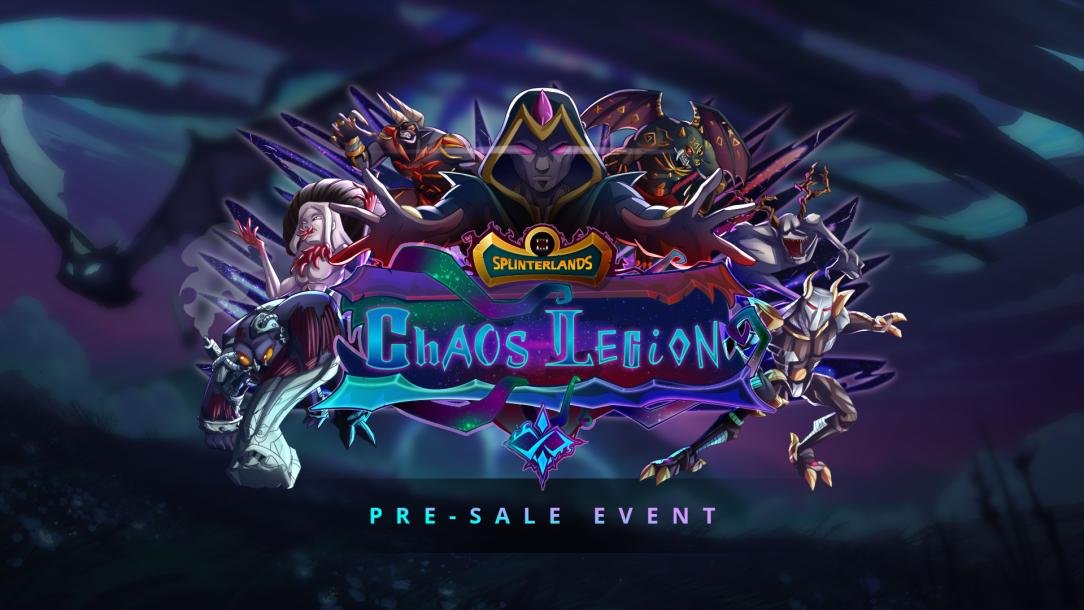 I'm personally really excited myself.
While my collection has a ridiculous value, I'm super struggling to make my way up the leagues. I wasn't super focused when I was collecting cards. I would get ones that I liked the look of, or that had an ability that I thought was useful, etc. My collection is full of cards at the 2nd highest level that I never got around to maxing out… so now that I'm going up against people will max cards, I'm crumbling. I can't afford to buy the remaining cards to max out the cards I need because they are so insanely expensive now.
For the last 6 months or so… I've essentially been slightly less successful at climbing the leagues each season…. so I'm really excited for Chaos Legion to buy some new cards super cheaply and max out the ones I need. I'm hoping this will make me competitive again.

There is so much in Splinterlands… the strategy of the games, climbing the leagues, playing in tournaments, playing in guild wars, renting out the cards you're not using, earning $SPS (Splintershards) the governance token. There's also SO MUCH to be excited about in the future. Splinterlands will have land where you can build buildings that will create items to help you in your games.
These items will be NFTs themselves. Yeah! We'll be creating our own NFTs within the game, and either using them, selling them to others, or exporting them out to other blockchains to sell there. There really is so much to be excited about.
Each game gives you a little bit of the DEC currency when you win… but you can also win prizes for being high enough up on the leaderboards at the end of the season, and/or prizes for winning tournaments. Each day you have a daily quest, which when finished gives you loot chests… and at the end of each season (12-15 days) you win a lot more loot chests depending on where you finished on the leaderboards. Within the loot chests you can win potions, DEC or cards…. and these cards range in price from $0.16 to $42.
The DEC itself is a pretty great prize for each win…
… it's also risen dramatically in value the last couple of months… so the +130.92 DEC I won above – equals…
Of course… you don't win that much every game in every league… but still, it's a nice little reward for playing a single match for a few minutes.
One of the big drivers for all these new players to join the game was the SPS token that was introduced. This token is a governance token. It's designed for the community to vote on particular things… things like 'Should this card become +1 faster?" or "Should we work on this feature, or this other feature next?"…
When they announced it, I was interested because I'm excited to have a say in the future of the game… but I can't say I had anything more than a mild interest. I was way more excited about the Land expansion and the Chaos Legion edition. It was mentioned early on that the SPS token could be traded on exchanges for those people that were passionate about making decisions for the game.
Since SPS was going to be listed on exchanges, that means it was to have a value. I thought at most it would be $0.02. I was intending to get some myself… but holy wow! I've never come close to purchasing it because it immediately took off like a rocket in price:
The token I thought at most would be $0.02 has been chasing down a $1.00 price point for the last week. I am shaken because these SPS tokens have been given to us… for free.
For 365 days (284 left) players holding cards, or other Splinterlands assets (packs, skins, titles, land, etc) are airdropped these SPS tokens depending on the amount of assets they hold. It's been absolutely incredible.
It's not just for people who have been around for a long time… you could start playing today, buy a couple of cheap cards and you'll get airdropped SPS tokens tomorrow. It's all sorts of ridiculous.
I honestly can't predict the value of these SPS tokens in the long term… the various new expansions will drive it upwards (ie, holding SPS gives you access to pre-sale of Chaos Legion) but I'd have to say in quieter periods the enthusiasm and therefore price of SPS will drop. Not that it matters to me… I've been staking (ie, locking away) all my SPS to earn the staking rewards (it's like it's earning interest on the SPS you lock). So holding SPS earns you more SPS.
As I said, I'm shaken. I never would have guessed that playing this fun little blockchain game would provide me with not only thousands of dollars worth of digital assets, but also a daily token that has real world demand. Don't tell anyone, but I just enjoy the strategy of each match… I'd still be playing if my cards weren't worth anything (which could honestly happen at any moment… blockchain and cryptocurrencies are known for their outrageous volatility).
Thanks so much for reading this Chaos Legion of the Splinterlands post! If you have any questions, or helpful suggestions… please let me know!
Please note : The above post may contain affiliate links.
Below are some product referral links that I love and will benefit us both if you're interested.
Splinterlands – A super fun blockchain card game that I play almost every day.
Fathom Analytics – Cookie notices no longer needed since Fathom doesn't track data. You can see this site's analytics right here.
Coil – A $5 USD monthly subscription fee provides you access to a ton of content and sites in a way that fairly rewards the creators of that content.
Exxp – The WordPress App to link your blog to the Hive blockchain.
NomadTask – Earn for completing online tasks like following accounts or completing reviews.
MINT Club – Create your own Smart Media Tokens with no coding required.
GALA Games – Gala is creating a whole platform of blockchain games. Definitely excited about Mirandus, Townstar and SpiderTanks.
MCO – Use my referral link https://crypto.com/app/9h9jnlxun9 to sign up for Crypto.com and we both get $25 USD.
Aptera – Get 30% off the reserve price for this incredible electric vehicle. (My post)